Retirees
2016 Retirees and Spouses
2015 Retirees and Spouses
Standing L to R: Rev. Theodore Day, Mr. James Starling, Mr. Frank Melson, Mr. Charles Carpenter, Rev. Gary Moore, Rev. Donald Schell
Sitting L to R: Mrs. Jacquelyn Day, Rev. Jeanel Starling, Rev. Diane Melson, Rev. Marsha Carpenter, Mrs. Jeanne Moore, Mrs. Diane Schell.
2014 Retirees and Spouses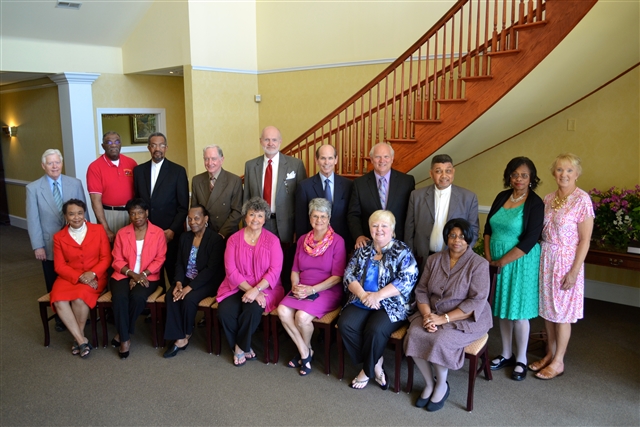 Standing L to R: Rev. William Hopkins, Mr. Thomas Ervin, Rev. George Moody, Rev. John Holden, Rev. Robert Kirby, Rev. John Mitchell, Rev. Norman Poultney, Rev. Thomas Fitchett, Rev Genevieve Jones Brown, Rev. Pamela Bockart. Seated L to R.: Rev. Alice Johnson Ervin, Mrs. Pat Moody, Mrs. Sylvia Holden, Mrs. Christine Kirby, Mrs. Janet Mitchell, Mrs. Sally Poultney, Rev. Frances Fitchett. (Not pictured) Rev. Mark Charlton, Rev. Bernard Shuhayda, Rev. Bernard Keels.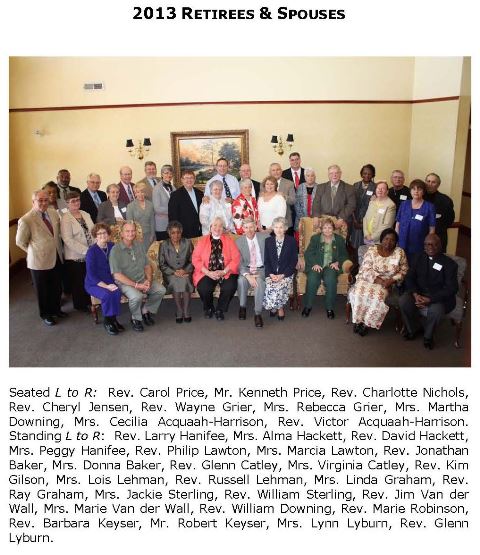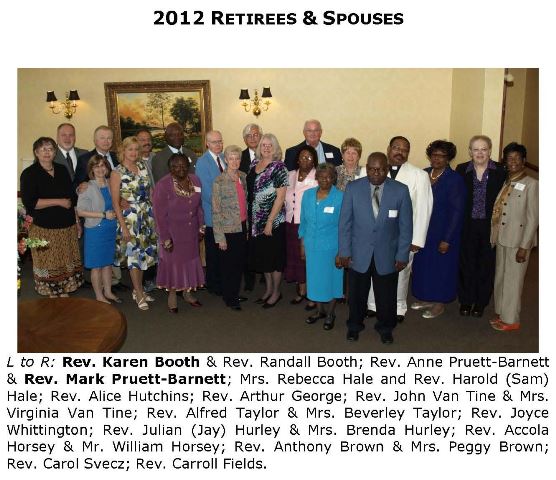 2011 Retirees and Spouses
(L- R) Rev. P. Thomas McKelvey, Mrs. Karen McKelvey, Rev. Donald Godwin, Mrs. Margaret Godwin, Mr. Noble Callaway, Rev. Martha Callaway, Rev. Shirley Evans, Mr. Stewart Evans, Rev. C. Karen Covey Moore, Rev. Elaine Ayres, Rev. Eleanor Laws, Mrs. Lillian Rojas, Rev. Jeremias Rojas, Mrs. Barbara Ackerman, Rev. Stephen Ackerman, Mrs. Annette Faltot, Rev. James Faltot, Rev. Carol Terry, Mrs. Carol Murray, Rev. Donald Murray (Not Pictured) Rev. and Mrs. James Hawkins, Rev. and Mrs Arthur Smith, Rev. Doris Whaley, Rev Leslie and Mr Daniel Slak, Rev. and Mrs. E. Martin Wiley, Jr.
2010 Retirees and Spouses
(L- R) Rev Jane Ayers, Mrs Mildred Hamilton, Rev Donald Hamilton, Mrs Linda Embert, Rev Howard Embert,
Rev Anna Cottom,Rev Bruce Cooke, Mrs Gail Cooke, Rev Yusef Ahmed, Mrs Christine Fitzhugh,
Rev William Fitzhugh, Rev Donald Schuler, Mrs Marty Schuler, (Not pictured) Rev Carol Loy, Rev Danese Collins
2009 Retirees and Spouses
(L-R) Top Row: Rev. Barbara Wilson, Rev. John Savage: Bottom Row: Rev. David Kreek, Mrs. Nancy Kreek, Rev. Linda Mariner, Mrs. Ruth Ann Savage (Not pictured) Rev. Purnell Moody
2008 Clergy Retirees and Spouses
(L-R) Rev. Douglas Ridley, Rev. John Dunnack, Rev. Greg Hill, Mrs. Rosemary Hill, Mrs. Janice Gross, Rev. Thomas Gross, Rev. Hilbert Watson, Mrs. Melva Slonin, Rev. Alex Slonin, Rev. Dale Vroman (Not Pictured: Rev. John Penn, Rev. Douglas Lindsay, Rev. Norma Bailey)
2007 Retirees and Spouses
Rev. Dr. Lawrence Stookey, Rev. Bonie Jones-Goldstein, Rev. Robert Riddleberger, Mrs. Ann Riddleberger, Rev. David Heistand (not pictured: Rev. Dr. James Seymour)
2006 Retirees and Spouses
(Bottom Row): Rev. Frank Sutton, Mrs. Suzanne Sutton, Rev. Ruth Tull, Mr. William Tull
(Top Row): Rev. Gary Tulak, Mrs. Judith Tulak, Rev. Conrad Cohen, Mrs. Joann Cohen, Mrs. Margaret Walz, Rev. James Walz


2005 Retirees and Spouses
(L-R)Rev. Joseph Ossei-Akoannor, Rev. Joshua Lebelo, Rev. Connie Sterner, Mrs. Susan Ledger, Rev. Ike Ledger, Rev. Robert Price, Mrs. Carolyn Price, Rev. Helen McFadden, Mr. Charles McFadden, Rev. Priscilla Maxham and Rev. Dorothy Clark (not pictured: Rev. W. Andrew Cottle, Rev. Leon Jenkins, Rev. Ellsworth Woodruff
2004 Retirees and Spouses
(L-R) Rev. Douglas Gatton, Mrs. Helen Gatton, Rev. Robert Rowe, Rev. Mary Ann Farnell, Rev. Carol Johnson, Rev. Virginia Power, Mr. Robert Power


2003 Retirees and Spouses
(L-R) Rev. Robert Harris, Lena Harris, Mr. Joshua McIntosh, Rev. Anna McIntosh, Rev. John Randolph, Mrs. Marbra Jane Randolph, Rev. Thomas Blakelock, Rev. Mary Lou Green, Rev. Robert Brown, Mrs. Violece Brown, Rev. Ronald Bergman, Mrs. Mary Lewis Bergman, Mr. Harry Brown, Rev. Gertrude Brown


2002 Retirees and Spouses
(L-R) Rev. Sterling Green, Mrs. Nettie Green, Mrs. Lorraine Tomlin, Rev. Lehman Tomlin, Rev. Janet Harmon, Mr. Hezekiah Harmon, Rev. Gloria Attix Not Pictured: Rev. Jerrald Knotts and Rev. John Koch


2001 Retirees and Spouses
(L-R): Mrs. Rebecca Johnson, Rev. William H. Johnson, Jr., Rev. Naomi G. Winchester, Rev. William Kniceley, Sr., Mrs. Jeanne Kniceley, Mrs. Gladys Humphrey, Rev. William Humphrey (Not pictured: Rev. Donald J. Hurst, Rev. Homer W. Minus, Rev. Clifford A. Armour, Jr., Rev. Frederick Wood and Rev. L. Wayne Getchell)